Another Great Show
9th ANNUAL CENTRAL COAST CLASSIC MOTORCYCLE SHOW Saturday Sept. 30th, 2017
And The Winners Are:
Steve Huntzinger
American 1St Place & Star of the Circle
1922 Henderson
Virgil Elings, American 2nd Place
1940 Crocker
John Lundberg, Japanese 1st Place
1967 Honda CL-77
Phil Rockwell, Japanese 2nd Place
1966 Honda CB77
Don Harrell, British 1st Place
1976 BSA Spitfire
Ralph Weuarez, British 2nd Place
1939 Ariel Square Four
Vincent Schardt, European 1St Place
1956 Moto Morini 175
Vincent Schardt, European 2nd Place
1959 Moto Parillia 99 Olimpia
Kennny Buchanan, Unrestored 1st Place
1982 Suzuki SP500
Jason Sharp, Unrestored 2nd Place
1946 Triumph 3T
Dave Johnson, Pre-War Pre 1944 1St Place
1940 Indian Sport
Mike Barbor, Pre-War Pre 1944 2nd Place
and Grand Marshall Award
1927 Harley JD
Kenneth Brown, Competition 1st Place
1964 Lambretta
Robert Wilson, Competition 2nd Place
1982 Honda XR500R
Michael Cooper, Cafe Racer 1st Place
1988 Honda Hawk
Kenneth Brown, Cafe Racer 2nd place
1972 Honda CB500
Richard Jones, Modified 1St Place
Harley Sportster
Bob Paque, Modified 2nd Place
Harley XLCR 900
Duane Anderson, Handbuilt 1st Place
1972 Bultaco 250
Will de Groot, Handbuilt 2nd Place
1937 Honest Charlie V8
2017 GRAND MARSHAL
BILL GETTY
CEO JRC Engineering, Motorcycle Racer,
collector, and British MC parts manufacture.
Past Grand Marshals

Here is 2015 Grand Marshall Gene Romero with John Tucker's Rob North built Triumph like the one he raced. Photo by: Tod Rafferty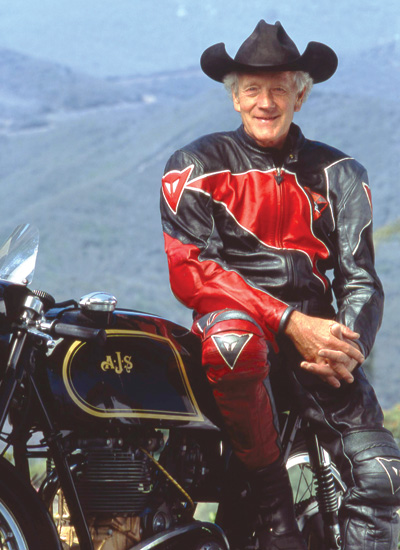 Motorcycle racer, collector, Solvang Motorcycle Museum owner.
Mert Lawwill Grand Marshal 2013
1969 AMA Grand National Championship
1998 Motorcycle Hall of Fame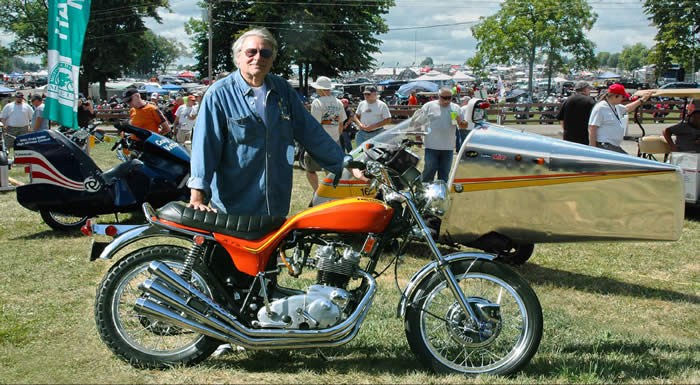 Motorcycle designer, Vetter fairing company, fuel efficient vehicle design
1998 AMA Hall of Fame
2012 AMA Legends Hall of Fame
Major Sponsors